Congregational history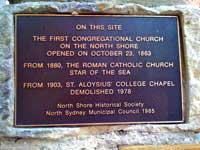 Plaque commemorating the first Congregational Church on the North Shore near St Aloysius College, Kirribilli
[Click on image for larger view]
The Uniting Church in Australia was a union of Congregational, Methodist and Presbyterian churches in 1977. We have been asked why there is no record of the Congregational Church in our story. The answer is simple: there was no Congregational church in the area in 1977 and none were involved in the establishment or ongoing presence of the Northside Uniting Church.

Nevertheless the Congregationalists were an early presence in the St Leonards/North Sydney area. There is a former Congregational church opposite Milsons Point railway station (the words "Congregational Church" still visible on the building). This is now a Chinese Presbyterian Church.

There is also a plaque near Loreto School referring to an early presence in what is now Kirribilli.

There was a Congregational Church in Glenmore Street, Naremburn - now town houses!